Laos is one country that has paid dearly for unexploded landmines and cluster bombs on its territory, and much needs to be done to ban these weapons and invest in mine clearance.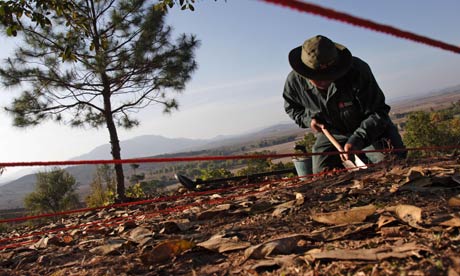 MAG experts clear an area of UXO, in the Plain of Jars, Phonsavan, Laos, in 2005. Photograph: Andrew McConnell/Alamy
Amid confirmed reports of landmine use in four countries, the director of the International Campaign to Ban Landmines, Kasia Derlicka, recently warned: "We fear that the global stigma the mine ban treaty has established [in the past 15 years] is under attack."
Landmines and cluster munitions have been described as "weapons of social cataclysm", which perpetuate poverty and prevent development. They leave a legacy of indiscriminate civilian injuries and deaths, burden struggling healthcare systems and render vast tracts of land uninhabitable and unproductive. As Kate Wiggans, from the International Campaign to Ban Landmines and Cluster Munition Coalition (ICBL-CMC) says: "They keep poor people poor, decades after conflict."
The ICBL-CMC has achieved remarkable progress in the past 20 years. This year Somalia became the 160th signatory to the mine ban treaty, and the Convention on Cluster Munitions has been joined by 111 countries. These treaties have succeeded in binding signatory countries to renounce such weapons, destroy their stockpiles and assist with mine clearance programmes.